What are Scholarships for Underrepresented Groups?
Scholarships for underrepresented groups are financial awards that are given to students from certain groups that are traditionally underrepresented in study abroad programs. These groups may include students of color, first-generation college students, students with disabilities, and students from low-income families.
How to Apply for Scholarships for Underrepresented Groups
There are a few things you can do to increase your chances of getting a scholarship for underrepresented groups. First, start your research early. Scholarship deadlines can be as early as six months in advance, so it is important to start your research early.
Second, be organized. Keep track of all the scholarships you apply for and the deadlines. This will help you to avoid missing any deadlines.
Third, tailor your essays to each scholarship. Take the time to read the scholarship requirements and tailor your essays to the specific scholarship. This will show the scholarship committee that you are serious about the scholarship and that you have a genuine interest in the program.
Finally, get help. If you need help with your application, ask a teacher, counselor, or family member for assistance.
Why Are Scholarships for Underrepresented Groups Important?
Scholarships for underrepresented groups are important because they help to break down barriers that prevent these students from studying abroad. Cost is often a major barrier to study abroad, and scholarships can help to make it more affordable for students from underrepresented groups to participate in these programs.
In addition, scholarships for underrepresented groups can help to increase diversity in study abroad programs. When more students from underrepresented groups study abroad, it helps to create a more inclusive and welcoming environment for all students
Exploring foreign lands through studying abroad presents invaluable chances for personal growth, academic advancement, and fostering cross-cultural understanding. Nonetheless, individuals from underrepresented groups often encounter additional obstacles when accessing and financing such experiences. Scholarships tailored for these communities play a vital role in dismantling these barriers and fostering diversity in study abroad programs.
We will showcase scholarships specifically designed to support underrepresented groups, empowering them to pursue their aspirations of studying abroad and nurturing inclusivity in the realm of international education.
Gilman International Scholarship Program
The Gilman Scholarship Program, overseen by the U.S. Department of State, promotes diversity in study-abroad opportunities. It offers financial support to undergraduate students in the United States who face financial constraints, including those from underrepresented communities. The scholarship assists with various expenses, including tuition, accommodation, books, and international airfare.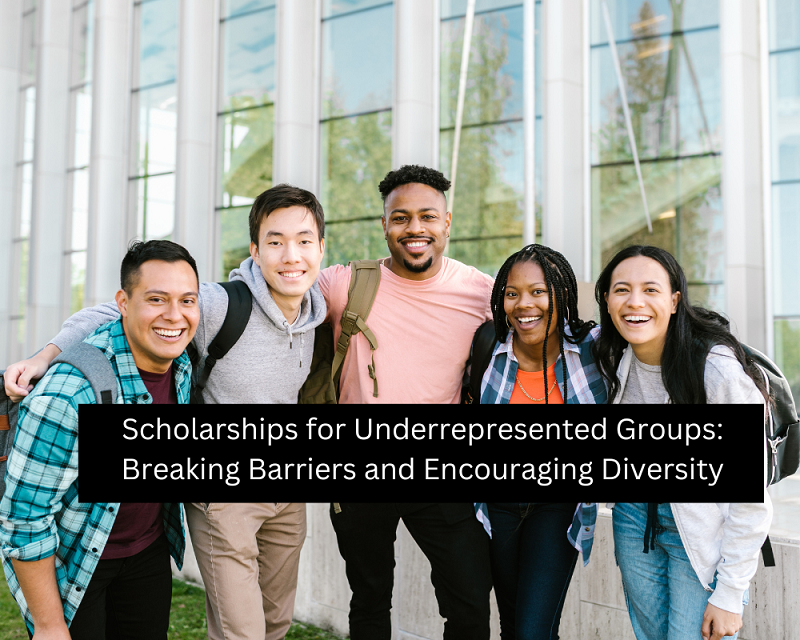 Diversity Abroad Scholarships
Diversity Abroad provides various scholarships and grants tailored for underrepresented students. These scholarships aim to assist individuals from diverse racial, ethnic, and socioeconomic backgrounds. They can cover studying abroad, including program fees, airfare, and living expenses.
Fund for Education Abroad (FEA)
FEA (Fund for Education Abroad) is a dedicated organization committed to enhancing underrepresented students' access to study-abroad opportunities. They provide diverse scholarships to students who exhibit financial need, including the Rainbow Scholarship, designed for LGBTQ+ students, and the Athletes Abroad Scholarship, tailored for student-athletes. FEA scholarships can be applied towards program fees, airfare, and other study abroad expenses.
Diversity Network Scholarships
The Diversity Network collaborates with universities and organizations that foster diversity and inclusion in international education. They provide scholarships to support students from underrepresented backgrounds, encompassing racial and ethnic minorities, first-generation college students, and students with disabilities. These scholarships facilitate students' engagement in study abroad programs and cover various expenses.
Critical Language Scholarship (CLS) Program
Sponsored by the U.S. Department of State, the Critical Language Scholarship Program provides fully-funded opportunities for intensive language study abroad. The program aims to enhance representation among underrepresented groups, encompassing students from diverse backgrounds and those from non-traditional study-abroad destinations. It specializes in critical languages such as Arabic, Chinese, Japanese, and Russian.
Minority Serving Institution (MSI) Scholarships
Numerous universities and organizations extend scholarships exclusively to students enrolled in Minority Serving Institutions, such as Historically Black Colleges and Universities (HBCUs), Hispanic-Serving Institutions (HSIs), and Tribal Colleges and Universities (TCUs). These scholarships aim to provide financial assistance to students from underrepresented communities, enabling them to partake in study abroad programs.
Underrepresented Fields Scholarships
Specific scholarships are designed to support underrepresented students in particular academic disciplines. For instance, the National Society of Black Engineers (NSBE) offers scholarships tailored for students in engineering and related fields, with a focus on STEM education. Likewise, the American Indian Science and Engineering Society (AISES) offers scholarships to Native American students pursuing STEM studies.
International Organization Scholarships
Prominent international organizations like the United Nations and the Organization of American States (OAS) frequently offer scholarships targeting students from underrepresented backgrounds. These scholarships are vital in fostering diversity and global understanding by supporting students pursuing international education opportunities.
Global Leadership League Scholarships
The Global Leadership League is an organization that focuses on promoting women's leadership and empowerment in international education. They offer scholarships specifically for women and gender non-conforming individuals who are pursuing study abroad experiences. These scholarships help address gender disparities in study abroad participation.
Regional and Community-based Scholarships
Discover regional and community-specific scholarships accessible within your local area or cultural and ethnic communities. These scholarships are typically established by community organizations, foundations, or local businesses to support students from specific underrepresented groups. Conduct research and proactively engage with local resources, community centers, and cultural associations to inquire about scholarships available to underrepresented students in your region.
Benefits of Studying Abroad for Underrepresented Students
Studying abroad can be a great way for underrepresented students to break down barriers and expand their horizons. Here are some of the benefits of studying abroad for underrepresented students:
Increased confidence: Studying abroad can help students from Scholarships for underrepresented groups develop confidence in their abilities. They will have the opportunity to meet new people from different cultures, learn new skills, and succeed in a challenging environment.
Enhanced global perspective: Studying abroad can give students from underrepresented groups a new perspective on the world. They will learn about different cultures, religions, and ways of life. This can help them become more understanding and tolerant of others.
Improved job prospects: Studying abroad can give students from underrepresented groups a competitive edge in the job market. Employers are increasingly looking for employees with international experience.
Greater personal growth: Studying abroad can be a transformative experience for students from Scholarships for underrepresented groups. They will have the opportunity to grow as individuals and learn more about themselves.
Conclusion
Scholarships for underrepresented groups serve as a beacon of hope, breaking down barriers that prevent deserving individuals from realizing their academic potential abroad. These scholarships not only offer financial support but also foster diversity, cross-cultural understanding, and personal growth. By investing in these scholarships, educational institutions and organizations pave the way for a more inclusive and equitable global education landscape.
FAQs
Q1: How can I apply for scholarships for underrepresented groups?
A: Scholarship application processes vary, but researching online platforms, university websites, and organizations dedicated to education can provide valuable information.
Q2: Are scholarships for underrepresented groups limited to specific fields of study?
A: No, scholarships are available across various disciplines, from STEM to humanities, catering to the diverse interests of underrepresented students.
Q3: Can scholarship recipients work while studying abroad?
A: Many scholarships allow limited part-time work to help cover living expenses, but it's essential to check the terms and conditions of each scholarship.
Q4: Do scholarship programs include cultural integration activities?
A: Yes, some scholarships offer cultural integration programs, language courses, and networking events to help students adapt to their new environment.
Q5: How can I support scholarships for underrepresented groups?
A: You can contribute by donating to organizations that offer scholarships or advocating for increased funding for educational opportunities for underrepresented students.